What is Acute Low Back Pain?
Acute Low Back Pain is present for up to six weeks and can be experienced in different forms including pain that is aching, burning, sharp or dull.
Who experiences Acute Low Back Pain or Lumbago?
Acute Low back Pain is very common with over 80% of people experiencing an episode of low back pain at some point in their lives. At any given point in time, at least 15% of individuals report it. Interestingly enough, it is even considered to be a part of the human experience.
What are common Acute Back Pain symptoms?
Pain in the lower back is most common, but it can be felt anywhere along the spine, from the neck down to the hips. In most cases, the pain is not caused by anything serious and will usually get better over time.
What causes Low Back Pain?
The exact source of acute low back can often be difficult to identify. Low Back Pain can be the result of excessive bending or other repetitive motions involving the lower back, but it can also be seemingly unrelated to a specific activity. Poor physical condition and a passive lifestyle are some of the most common causes for Lumbago.
There are numerous possible pain producers including muscles, soft connective tissue, ligaments, joint capsules and cartilage, and blood vessels. These tissues may be pulled, strained, stretched or sprained. Small tears that occur in the outer layer of the intervertebral disc (annular tears) can initiate severe pain.
Testimonials for Lower Back Treatment at Nordic Health:
I have had multiple spine surgeries. Even with traditional physical therapy, I was unable to twist and bend.  After a few visits at Nordic Health, my mobility has greatly improved and continues to improve with each additional visit.  The machines are just phenomenal.  I walked in here in pain and hunched over and walked out tall and straight and "whistling Dixie."  I love the fact that the machines remember me from workout to workout.  I have significantly improved since starting therapy at Nordic Health.
Timothy Lopez,
Nordic Health's patient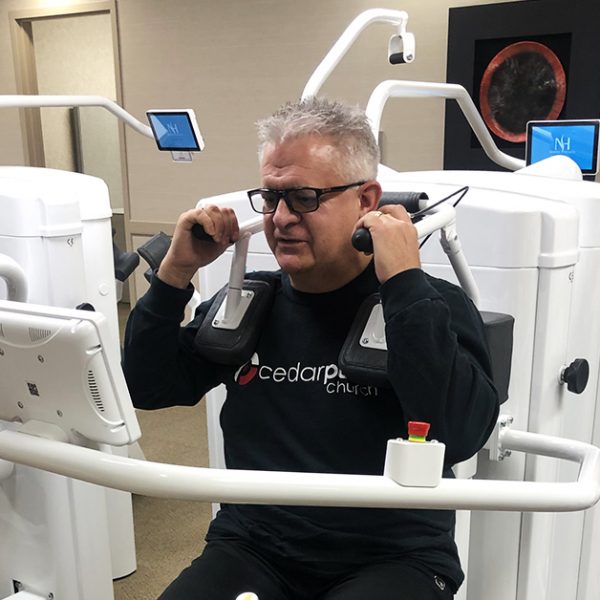 I came to Nordic Health with the goal to get more strength so that I can do the things that I enjoy in my daily life.  It has been wonderful for me.  The equipment is smooth and easy to use.  I'm much stronger since I started using the equipment.  Nordic Health has helped to build measurably more strength than I was able to build with traditional physical therapy.  This therapy is challenging, but it is not going to hurt you.  I'm thankful that we have this equipment and I wish I could use it all the time.
Diana Ross,
Nordic Health's patient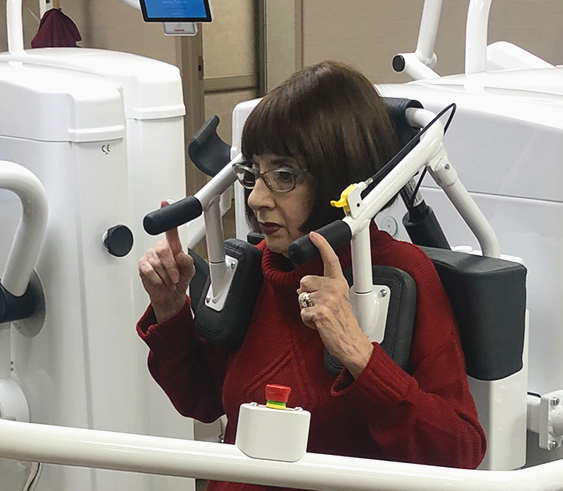 Treatment for Low Back Pain
Even if Back Pain goes away by itself, it does not solve the root cause of the problem. According to the latest guidelines and scientific studies, the best defense against Back Pain is a healthy, strong and flexible spine. The Nordic Health physical therapist measures the spine using our proprietary medical equipment with strength, mobility, and strength-balance testing functionality. The results are compared against the normative values of a healthy spine considering the height, weight, age, and sex of the patient.
Based on this information we develop an individualized treatment plan to exercise the spinal core muscles. We have consistently been able to deliver great clinical outcomes with significantly increased mobility, endurance, and strength levels resulting in significantly reduced, and even complete elimination of pain.
Are you looking for a suitable Low Back Pain specialist?
Nordic Health Spine+Ortho is a clinic-based, physician-driven, patient-centric treatment program for those with spine and orthopedic pain:
Back, neck, shoulder, hip, and knee pain
Sudden onset of pain
First-time episodes of pain
A history of chronic pain and/or decreased function
Post-surgical patients (requires a surgeon's approval)