Nordic Health Physical Therapy
Nordic Health Physical Therapy for Spine and Orthopedic Disorders
Musculoskeletal disorders are the biggest cause of disability. Despite the billions spent, the problem is just getting worse. The latest medical guidelines strongly recommend exercise therapy as the first-line treatment for musculoskeletal disorders.
Nordic Health provides a holistic approach to your musculoskeletal problem. Our full solution covers spine and all the main hip, knee and shoulder joints. We acknowledge that dysfunction of one joint also affects other parts of the body. For example, a problem in hip joint often adversely affects the lower back and knee joint. Therefore, our individualized treatment programs not only tackle the core problem, but also treat the connected areas as well. Our passionate medical personnel and revolutionary technology are changing traditional musculoskeletal healthcare. Uncompromised biomechanics combined with intelligent devices produce predictable and documented outcomes with high patient satisfaction. Whether you are suffering from a shoulder impingement or herniated disc, our approach will cure you holistically with the main goal of improving your daily life through an optimally functioning body.
Call Us Today: 918-779-6777
All your training data is immediately available for comprehensive reporting of your mobility and strength
Revolutionary Treatment Program
Our Scandinavian system consists of dedicated devices for the spine, hip, knee and shoulder joints. The Nordic Health solution manages the whole treatment process – helps to select the right care pathways, automates treatment program creation, guides through individual exercises and collects all the data for reporting. It helps the physical therapist in making better treatment choices and motivates clients in their recovery journey. The NH Spine+Ortho model relies on an evidence-based and protocol-driven treatment program that results in objectively measurable outcomes. Individualized protocols are planned based on questionnaires, physical evaluations, and tests. We have a proven track record to reduce pain, increase strength and mobility and enhance the quality of life.
Nordic Health Active Therapy Solution
The solution uses carefully targeted movement and controlled loading to reverse the deconditioning syndrome related to back, neck, hip, knee and shoulder pain. The treatment process provides:
Functional profile analysis for creating an optimal, individualized treatment program
Quality tracking of each movement for detailed training analysis
Questionnaires for easy-to-analyze treatment feedback
Total treatment tracking for evaluating treatment progress and success
Our Revolutionary Nordic Health Solution
With the latest research and guidelines in mind, we have developed a treatment program and technologies that are changing the musculoskeletal health care. Our Nordic Health model is based on a therapeutic exercise that promotes the functioning of muscles and joints. We utilize precise and safe device-based training combined with stretching, and manual therapy delivered by passionate medical professionals. Our proprietary software solution ensures the most effective yet balanced training and motivates the patients to take charge of their recovery.
Unlike any other physical therapy program available we can measure the patient's strength, mobility, and strength balance levels. Using this information, we will develop an optimal and individualized training program for the patient. The biofeedback system and the preset rules automatically control the program where it is deemed necessary.
Testing and measuring at the beginning and at the end of the treatment cycle provides us with an unprecedented picture of the mobility and strength gains. Seeing and understanding the concrete results of the therapy motivates our patients to complete the program. Some of the most heard feedback from our patients includes:
"I have tried everything to get rid of my pain, and with Nordic Health I finally found something that actually works!"
"Due to the mobility and strength gains, I can go about my daily activities without problems."
"Training with the devices is so rewarding as I get instant feedback on my success"
I have had multiple spine surgeries. Even with traditional physical therapy, I was unable to twist and bend.  After a few visits at Nordic Health, my mobility has greatly improved and continues to improve with each additional visit.  The machines are just phenomenal.  I walked in here in pain and hunched over and walked out tall and straight.  I love the fact that the machines remember me from workout to workout.  I have significantly improved since starting therapy at Nordic Health.
Timothy Lopez,
Nordic Health's patient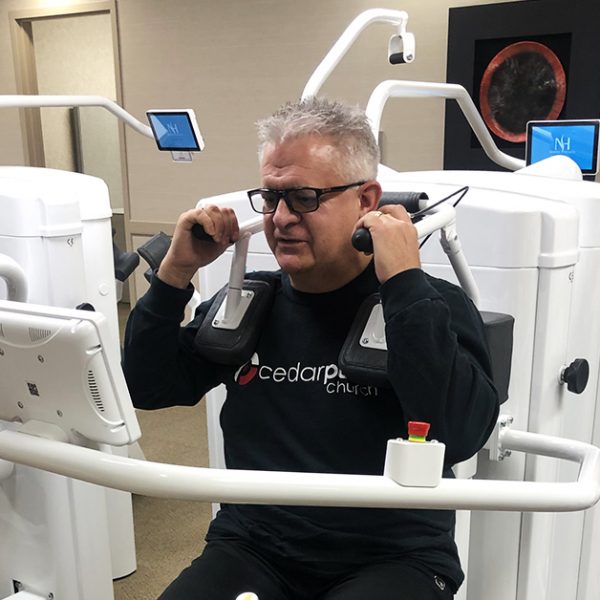 "During my holiday in Scandinavia, I noticed that health comes first for people. When I talked to the owner of the Finnish DAVID I immediately became enthusiastic about the fantastic technology of the evidence-based DAVID equipment. In the meantime, I have set up my own clinic in Oklahoma with all the DAVID equipment and real-time EVE software. The patient results are amazing."
Dr. Frank J. Tomecek, M.D.
Neurosurgeon and Owner Nordic Health Tulsa
I came to Nordic Health with the goal to get more strength so that I can do the things that I enjoy in my daily life.  It has been wonderful for me.  The equipment is smooth and easy to use.  I'm much stronger since I started using the equipment.  Nordic Health has helped to build measurably more strength than I was able to build with traditional physical therapy.  This therapy is challenging, but it is not going to hurt you.  I'm thankful that we have this equipment and I wish I could use it all the time.
Diana Ross,
Nordic Health's patient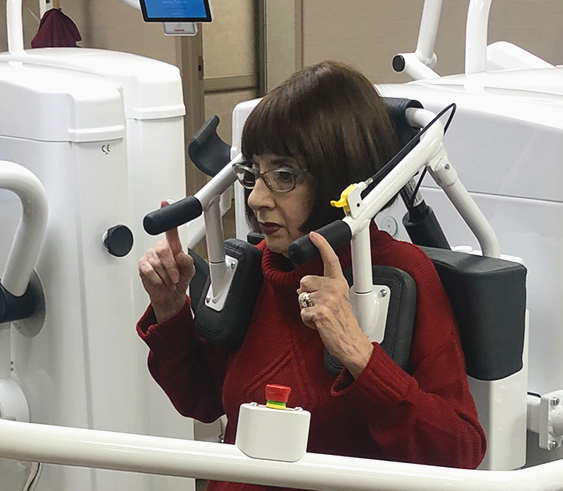 Watch our latest video to learn how our physical therapy program works!